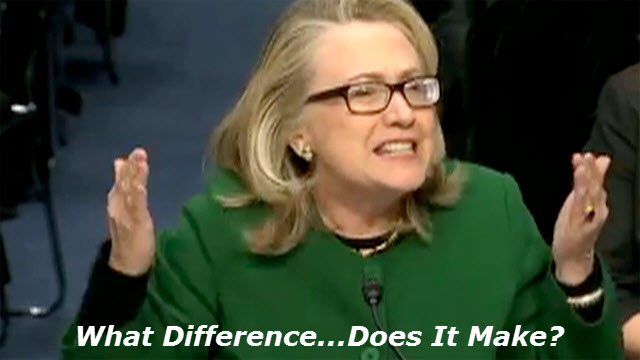 Raymond Maxwell, the only official at the State Department'sbureau of Near Eastern Affairs to lose his job after the attacks, tells Josh Rogin that he's been scapegoated by Hillary Clinton's team,  in an exclusive interview with the Daily Beast.
Following the attack in Benghazi, senior State Department officials close to Hillary Clinton ordered the removal of a mid-level official who had no role in security decisions and has never been told the charges against him. He is now accusing Clinton's team of scapegoating him for the failures that led to the death of four Americans last year.
Hillary Clinton laughs as she testifies before the House Foreign Affairs Committee on Capitol Hill in January. (Chip Somodevilla/Getty Images)
Raymond Maxwell was placed on forced "administrative leave" after the State Department's own internal investigation, conducted by an Administrative Review Board (ARB) led by former State Department official Tom Pickering. Five months after he was told to clean out his desk and leave the building, Maxwell remains in professional and legal limbo, having been associated publicly with the death of Ambassador Chris Stevens and three other American for reasons that remain unclear.
Maxwell, who served as deputy assistant secretary of state for Near Eastern Affairs from August 2011 until his removal last December, following tours in Iraq and Syria, spoke publicly for the first time in an exclusive interview with The Daily Beast.
"The overall goal is to restore my honor," said Maxwell, who has now filed grievances regarding his treatment with the State Department's human resources bureau and the American Foreign Service Association, which represents the interests of foreign-service officers. The other three officials placed on leave were in the diplomatic security bureau, leaving Maxwell as the only official in the bureau of Near Eastern Affairs (NEA), which had responsibility for Libya, to lose his job.
"I had no involvement to any degree with decisions on security and the funding of security at our diplomatic mission in Benghazi," he said.
Maxwell was removed from his job on Dec. 18, the day after the ARB report was released, and subsequently placed on administrative leave, which is meant to give the State Department time to investigate whether Maxwell should be fired or return to work. Five months later, that investigation seems stalled and Maxwell sits at home, where he continues to be paid but is not allowed to return to his job.
The State Department declined to comment on the reasons that Maxwell and the other officials were placed on administrative leave, or on what the four were told about the reasons for the decision. It did confirm that the ARB did not recommend direct disciplinary action because it didn't find misconduct or a direct breach of duty by the officials. "As a matter of policy, we don't speak to specific personnel matters," said State Department spokeswoman Jen Psaki.
Since the leave is not considered a formal disciplinary action, Maxwell has no means to appeal the status, as he would if he had been outright fired. To this day, he says, nobody from the State Department has ever told him why he was singled out for discipline. He has never had access to the classified portion of the ARB report, where all of the details regarding personnel failures leading up to Benghazi are confined. He also says he has never been shown any evidence or witness testimony linking him to the Benghazi incident.
Maxwell says he had planned to retire last September, but extended his time voluntarily after the Sept. 11 attack to help the bureau in its time of need. Now, he is refusing to retire until his situation is clarified. He is seeking a restoration of his previous position, a public statement of apology from State, reimbursement for his legal fees, and an extension of his time in service to equal the time he has spent at home on administrative leave.
"For any FSO being at work is the essence of everything and being deprived of that and being cast out was devastating," he said.
Soon after being removed from his job, Maxwell was visited at his home late one evening and directed to sign a letter acknowledging his administrative leave and forfeiting his right to enter the State Department. He refused to sign, responding in writing that it amounted to an admission he had done something wrong.
"They just wanted me to go away but I wouldn't just go away," he said. "I knew Chris [Stevens]. Chris was a friend of mine."
"Behind Beth's back, Maxwell ended up being put on administrative leave."
The decision to place Maxwell on administrative leave was made by Clinton's chief of staff Cheryl Mills, according to three State Department officials with direct knowledge of the events. On the day after the unclassified version of the ARB's report was released in December, Mills called ActingAssistant Secretary of State for Near Eastern Affairs Beth Jones and directed her to have Maxwell leave his job immediately.
"Cheryl Mills directed me to remove you immediately from the [deputy assistant secretary] position," Jones told Maxwell, according to Maxwell.
The decision to remove Maxwell and not Jones seems to conflict with the finding of the ARB that responsibility for the security failures leading up to the Sept. 11, 2012 attack on the U.S. mission in Benghazi should fall on more senior officials.
"We fixed [the responsibility] at the assistant secretary level, which is in our view the appropriate place to look, where the decision-making in fact takes place, where, if you like, the rubber hits the road," Pickering said when releasing the ARB report.
The report found "systemic failures and leadership and management deficiencies at senior levels within two bureaus of the State Department," namely the Diplomatic Security (DS) and Near Eastbureaus. Deputy Secretary of State Bill Burns testified in December that requests for more security in Libya, denied by the State Department, did reach the assistant secretaries and "it may be that some of my colleagues on the 7th floor saw them as well."
But Jones was not disciplined in any way following the release of the report, nor was the principal deputy assistant secretary of State at NEA, Liz Dibble, who is slated to receive a plush post as the deputy chief of mission at the U.S. embassy in London this summer. In the DS bureau, the assistant secretary, principal deputy, and deputy assistant all lost their jobs. In the NEA bureau, only Maxwell was asked to leave.
Jones and Dibble were responsible for security in Libya, Maxwell and three State Department officials said. What's more, when Maxwell was promoted to his DAS position in August 2011, most responsibility for Libya was carved out of his portfolio, which also included Algeria, Morocco, and Tunisia. Although Maxwell did some work on Libya, all security related decisions were handled by Dibble and Jones, according to the three officials.
One State Department official close to the issue told The Daily Beast that Clinton's people told the leadership of the NEA bureau that Maxwell would be given another job at State when the Benghazi scandal blew over. Maxwell said Jones assured him he would eventually be brought back to NEA as a "senior advisor," but that Mills, Clinton's chief of staff, reneged.
"The deal that NEA made with Cheryl Mills and the 7th floor was to keep Ray within NEA and just give him another portfolio. For whatever reason, it didn't go down like that and that was a complete shock to Beth [Jones], because that was the deal that Beth made with Cheryl," the official said. "Behind Beth's back, Maxwell ended up being put on administrative leave."
full coverage at:
http://wwwyellowpagescouponsnet.blogspot.com