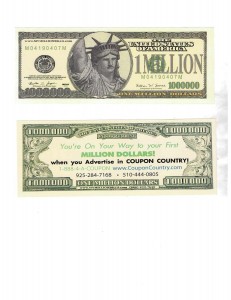 BEST BUSINESS CARDS
 – Authentic-Looking MILLION DOLLAR BILLS are Real Eye Openers. People will love when you hand them a Million Dollars! With your own name, business logo, slogan, etc on the back, they are a Great
Alternativeto Business Cards,
 or, use them to promote products, services, events, sweepstakes, promotions, etc.
Just $100 for 1,000 billsl with your custom info, similar to that pictured above. You'll just need to provide
up to 4 short lines of copy or a logo in jpeg format, emailed to 'succeed@roadtosuccess.us or call 925-788-3316' for best business cards.
You will be the hit of the party / business meeting / event passing out your Million Dollar bills Best Business Cards!!
Also, you may join our Affiliate Program and
Make Money offering others this same opportunity – and receive an incredible 40% Commission
buying and selling Million Dollar Bills! Go to:
http://mymillionbills.com/affiliate2.html
Combine with ROAD TO SUCCESS Motivational Posters for a truly great Double Promotion – Best Business Card
Make Money offering others this same opportunity – and receive an incredible

40% Commission


buying and selling Million Dollar Bills! Go to:
Combine with ROAD TO SUCCESS Motivational Posters for a truly great Double Promotion – Best Business Cards