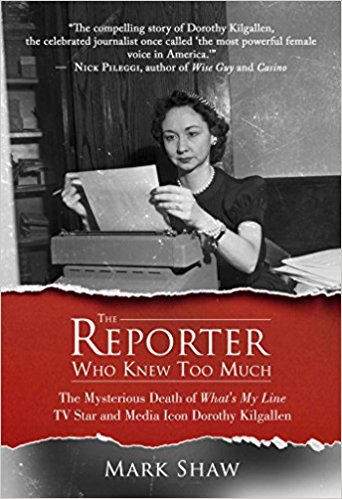 DOROTHY KILGALLEN – Hollywood Reporter and What's My Line Panelist
Died Mysteriously While Investigating the Kennedy Assassination
      If you're old enough to remember the Kennedy Assassination you also might be old enough to remember 'What's My Line' and one of the four popular, celebrity panelists on the show, Dorothy Kilgallen. But, you may not know that she may have been closest to  the truth as to who killed JFK when her story died prematurely with her own death – perhaps until now and a new book, 'The Reporter Who Knew Too Much.'

Called by the New York Post, "the most powerful female voice in America," and by acclaimed author Mark Lane the "the only serious journalist in America who was concerned with who killed John Kennedy and getting all of the facts about the assassination," Kilgallen's official cause of death reported as an overdose of barbiturates combined with alcohol, has always been suspect since no investigation occurred despite the death scene having been staged. Shaw proves Kilgallen, a remarkable woman who broke the "glass ceiling" before the term became fashionable, was denied the justice she deserved, that is until now.  (Amazon new book: Dorothy Kilgallen the reporter who knew too much
)
In a new book out 54 years after the Kennedy Assassination, Mark Shaw writes about perhaps the person   closest to uncovering the real truth behind the Kennedy Assassination (at least for those who don't believe that Lee Harvey Oswald was the lone killer) and just as more investigative  information was released by court order regarding the Kennedy
Assassinatioin.  Assassination (10-27-17). Shaw was interviewed on KGO Radio 10-27 and told about how her belongings were immediately removed from her home after her supposed 'overdose' death before the FBI and investigators could reach  the scene.  He says that , in late 1963 following Kenndy's assassination, J Edgar Hoover was eager to make the public believe Oswald was the  loan killer.  Kilgallen had written 'the Oswald file must not close'  but the Killagalen connection to the Kennedy Assassination was not very   prominent like the Garrison investigation even this reporter was not aware of the connection, until now and Shaw's book.
In the interview, Shaw says that Kilgallen had the only interview with Ruby, who was jailed only days after the assassination when he somehow got into the Dallas jail where he killed Oswald. Shaw spoke of a Jack Harvey (sp) who knew of Ruby and that Ruby had an 'in' with the police department, this coming after the Warren Commission has stated it wasn't true.
Of the newly released Assassination information, Shaw found only a few items of interest, so far. One was that Oswald had been in Mexico just prior to the assassination where he had met with Cubans. One  of them had later noted that 'Oswald was a good shot,' as Shaw quoted from the new material. Shaw had hoped to find more information about CIA involvement. We may never know, since some 'sensitive' pages were not released at the lat mome nt after the CIA and FBI imposed on President Trump not to release them for security reasons.
Shaw noted also a mafia member, Carlos Marcello (sp) who had made a point of wanting to kill Kennedy.  He talked about the JFK -Marilyn Monroe connection and how brother Robert Kennedy picked up the relationship with Monroe after JFK died, upon which Kilgallen threatened to 'expose' 'Bobby'  if he didn't help with the investigation of Kennedy. Shaw also stated that  Hoover was 'in cover up mode' from day one following the assassination.
Again, the 'official' explanation for Kilgallen's death was an 'overdose of barbituates' though one of the people who quoted who, paradoxically,  told Shaw he still 'wanted to prove who did  it' (killed Kilgallen).
Editor's note: We find this seemingly new 'chapter'  on the Kennedy assassination fascinating and will dig further into the story of Dorothy Killgalen and  her Kennedy connection. Because Kilgallen died soon after the assassination, before she could really get her own investigation moving, little has been known or said of Kilgallen- perhaps until now. Book available at left
Dorothy Kilgallen the reporter who knew too much
 Last program of 'What's My Line' that Kilgallen would appear in. For
 hardcore fans, do you notice anything different about her this night?
Nov 7, 1965
KENNEDY FILES – Sad End to the Reporter Celebrity Who 'Knew Too Much'