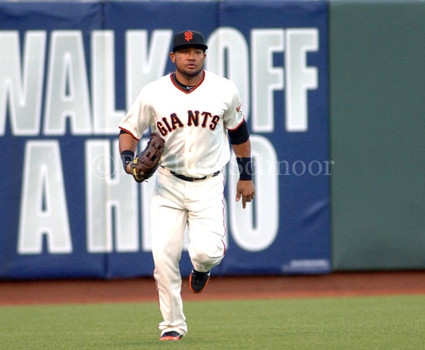 They call them the GIANTS…  for good reason when Bonds was around. Now, the new designer drugs don't necessarily increase one's bulk anymore, but it's the same ol same ol  in San Francisco…. Just the secret sauce and names  have  changed..
Some people call them the Amazing Giants… but as we keep telling you (http://WhereDidYouGoJoeDimaggio1.blogspot.com -DELETED , MYSTERIOUSLY) , there's a lot more behind what meets the eye... Everyday we see more evidence of just what's REALLY going on behind the scenes that let the Giants keep winining…just as it with Barry Bonds for eight years until a couple reporters were finally brave enough to break the story of Bonds 'flaxseed oil'  of which only a minority of Giants fans accepted – and Bonds and the Giants  weren't  so REAL outside of San Francisco. .  The Giants wouldn't be getting away with what's happening in any other city than liberal San Francisco.  Not to get too political here but The Giants are the Obamas of baseball. In this new era they can seemingly do no wrong .
And  it doesn't stop with the players . Even Giants management will do whatever it takes to win and sell fans, e.g. s  turning up the PA to cause more excitement , falsely claiming every game a sellout for two years, getting rid of people who know too much (trainer Stan Conte, minority owner Bill Neucomb), bringing in known PED users (and sometimes repeat offenders)… Now   the Giants are actually winning world series and seeming to win at will with players who weren't hitting much  until they came to the Giants, ie Scutaro, Blanco, Pagan, etc.  And the others are 'magically' raising their averages inexplicably to some… It's rather obvious when you look at all the numbers as we have in previous blogs (http://WhereDidYouGoJoeDimaggio1.blogspot.com
Just a few teasers:
– The Giants , at last check , had the third  lowest strikeout team total  in the majors, with Pablo Sandoval having less than 20 stirkeouts – only Scutaro has fewer among the regulars. A free swinger like Sandoval doesn't just suddenly stop striking out , while increasing his power (15 home runs in two months, since  last September, after hitting only seven the entire first 5 months of last year). Of course , lack of strikeouts are often indicative of other things, especially when combined with power. A guy who hits for homeruns with low strikeouts comes into question, ala McGwire and Bonds… and now Sandoval, and he's had some monsters since last September — and in the difficult San Francisco park


–  Tim Lincecum seems to be suddenly back on track. After going downhill the past year and a half, seems like he's magically back on track. His pitching velocity has  magically improved  of late and  today he shut out the team with the best record in baseball, Lincecum shut out the Braves
Lincecum velocity up almost 2 mph, 90-92 mph this year as compared to last year


–  More to Giants management, if a fan does something to help the Giants, such as the fan who interferred with Atlanta's Upton making a catch, to help the Giants in the Atlanta game today (Sunday). With managerment and fan support and even that of Giants' homer announcers Kuiper and Kruko, interfering   fan , known as 'the Dog' for other things he has done, is a hero in San Francisco, not even kicked out of the game. Meanwhile, instead of calling the Giant player out for interference from the fan when it might have been a homer, the umpires 'compromised ' and gave him a double.
The Giants keep doing it with more than mirrors –   after all this time and we'll go into even more details very soon.  We'll tell you how a player can take the new designer PEDs one day and have it out of his system within hours.  That's why a guy  like Scutaro can be down for a few weeks and then suddenly start hitting – even homers as he did today – not bad for the little 38 year old second baseman from Venezuela. It's almost like they talk to each other and have a plan where some guys will have a few good days while others have bad ones, only to switch it up later so as to make
things not quite so noticeable as Scutaro's .370 average the last half of last year. WE WILL BRING OUT A LIST OF DOZENS OF PLAYERS WHO WERE EITHER INDICTED
OR TARGETED (by the Miami Dade recent investigation) AND OUR OWN 'SCIENTIFIC' RESEARCH OF PLAYERS PROBABLY USING TODAY – who can easily get away with it
with still lax drug testing in baseball (one can even call it a joke) . The Giants  have had as many PED  players as perhaps all the other teams in baseball, combined and we'll go into this…


Why do you think all those late inning heroics with players named Guillermo who had only one 
previous homer in his major league career.  And , after losing star players like Melky Cabrera and Brian Wilson, the Giants keep on winning.  Magically,  previous 'no name' players like
 Goudin, Mijares and Blanco suddenly became stars with the Giants.  Half the entire 2010 team
that won a world series is gone, yet the Giants are still winning…. We"ll keep bringing up the
evidence  and exposing the scandal, in our opinion,  for those of us baseball traditionalists and
honest folks who care about the grand old game and would like to see it played in such a manner
you don't have to always guess which Giants are using PEDs which days… 




AS LONG AS  NO REPORTERS OR SELIG (very doubtful) – or anyone – FINALLY PUT A STOP TO  THE GIANTS  OFF-FIELD ACTIVITIES  , THEY WILL CONTINUE TO WIN  INDEFINITELY. . MARK OUR WORDS Go back and read the rest of our science @ 
(http://WhereDidYouGoJoeDimaggio1.blogspot.com