We know Obama and his men are good at scheduling, e.g. press conferences for Fridays , but they probably  did NOT plan this one.  In fact, we knew it was close but, only Bob Shieffer  of CBS' Face The Nation and a few others pinned it down.  Yes, this May marks  the 40th Anniversary of the Watergate Hearings!
  Obama on Nixon's Slippery  Slope of a nose… IRS Harassment, Press Intimidation, Coverups…
…but he sure couldn't have picked   better -or worse- timing for his own problems. The parallels between Watergate and ObamaGate are uncanny.  Just as John Dean opened the Watergate hearings in 1973 by telling of  Nixon cooking the books in the IRS, Obama could fall prey to a similar fate in the new IRS scandal, probably the most serious of the several issues he has to contend with right now, namely BenghaziGate and AP Media Gate, plus a couple impending Gates we'll remind you about shortly…(stay tuned) http://wwwyellowpagescouponsnet.blogspot.com   
Will another Deep Throat emerge? 
Watergate 40th Anniversary Tshirts availabe @ http://zazzle.com/burtkauf orhttp://PosterPalooza.info

What do you think of this?
Like this if you think we should have  new Hearings on IRS Gate …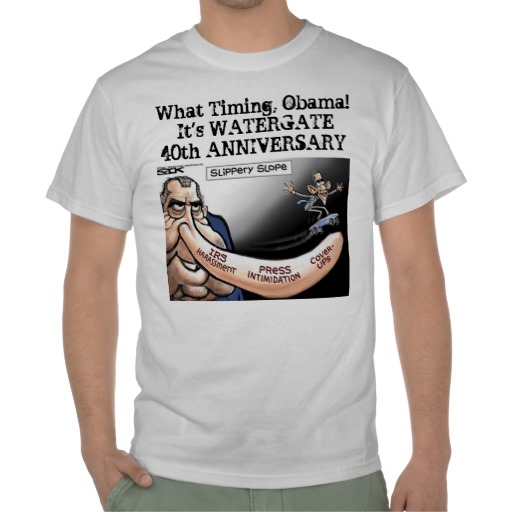 Tshirts for sale @ http://PosterPalooza.info