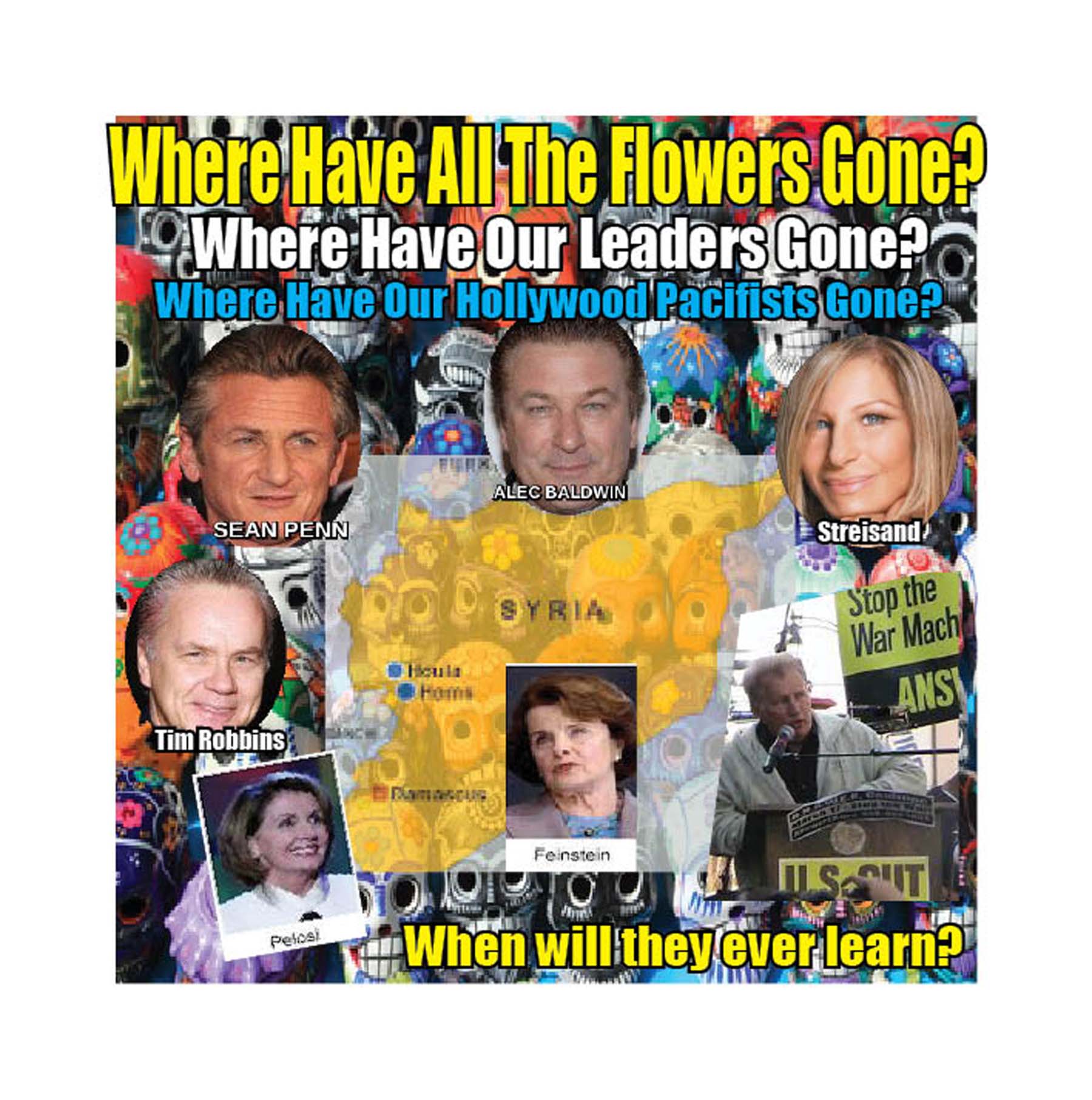 WHERE HAVE ALL THE FLOWERS GONE?
Where Have All Our Leaders Gone?
Where have the Hollywood Pacifists Gone?
Where will all the innocents go?
(and not just in Syria)
They'll go to graveyards EVERYWHERE
When will we ever learn?
When will we ever learn?
Only one lonely voice has come out,maybe two -Ed Asner and Mike Farrell opposing
Obama's missle launch/ invasion of Syria. And despite Obama claims to the contrary only a handful of small countries support it.
Don't look for Iraq War-style protests, says the liberal activist, who — like "M*A*S*H" star Mike Farrell — opposes military action.
In 2003, ahead of a U.S. attack on Iraq, a robust anti-war movement in Hollywood
included
a TV commercial starring
Martin Sheen

 
and
Sean Penn
visiting Baghdad. There were online petitions signed by
Ed Asner
; letters to President
George W. Bush

 
pleading for peace were signed by
Matt Damon
,
Tim Robbins
,
Barbra Streisand

 
and
Alec Baldwin
; former
M*A*S*H
star
Mike Farrell
fronted multiple press conferences where celebrities denounced war. In interviews,
Janeane Garofalo
stopped identifying herself as an actor — she preferred to be called a member of the U.S. anti-war movement.
more @


 WHERE HAVE ALL THE FLOWERS GONE Tshirts available here with above, large logo – all sizes